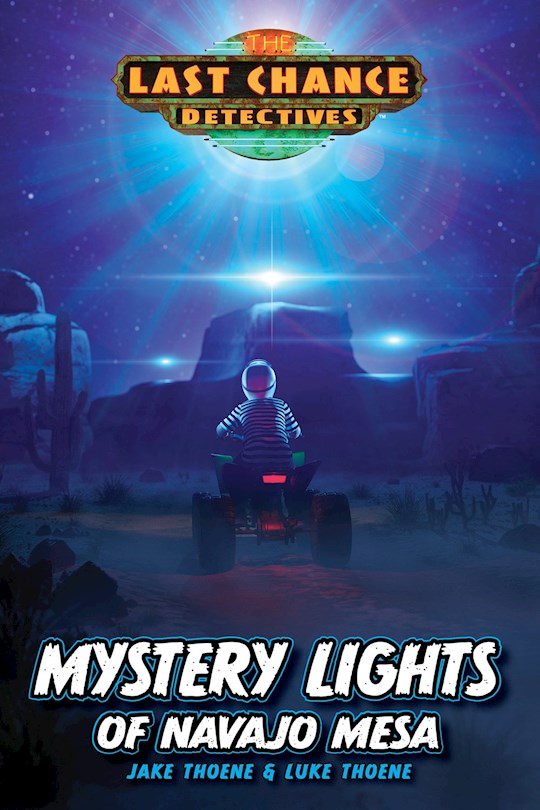 Mystery Lights Of Navajo Mesa (Last Chance Detectives #2) (Repack) (Oct)
$9.99
Mystery Lights Of Navajo Mesa (Last Chance Detectives #2) (Repack) (Oct)
:
Last Chance Detective
by: Jake Thoene
Not Yet Published
Available On: Oct 5th, 2021
*Deliveries may be delayed due to COVID-19.. Learn More
Mystery Lights Of Navajo Mesa (Last Chance Detectives #2) (Repack) (Oct)
:
Last Chance Detective
by: Jake Thoene
Product Description
Readers ages 8-12 and the parents/grandparents who buy for them. Fans of the original Last Chance Detectives books and videos. Readers of early chapter books, especially contemporary adventure Here in book two of the series, readers will learn how to have faith in God's guidance. Four friends make a shocking discovery that could cost them everything! At the edge of a small desert town, where a B-17 sits next to an old diner, a mystery has begun...
Show More
Product Specifics
Item ID

760091

# of Pages

128

Format

Trade Paper

Date Published

Oct. 5th, 2021

ISBN-10

1646070518

ISBN-13

9781646070510

Publisher

Focus On The Family

Language

ENG
Only logged in customers who have purchased this product may leave a review.